Let's go back to this time last year.
I'd been doing my blog a few weeks, and a year ago, one sunny evening (remember them?), a Friday, we saw a balloon pass very low over the back garden, and land in a field nearby.
Click here for the original blog entry.
I was fetching in the washing (yes, it was actually dry enough to leave it out there for a few hours), when my mobile started ringing, it was my friend Jo asking if I was at home. I thought she was going to pop round for a cuppa, but she asked if I had seen a hot air balloon, to which I replied that I hadn't.
I took another look out the back door, and spotted it. How I could have missed it, I do not know. Well, actually it was probably too low to see when I'd been getting the washing, because if I thought last year's was close, this one was even closer.
It was a few houses away, but had it been nearer my back garden, it wouldn't have made it over the trees. It looked as though it might struggle to make it over the roof tops, I shouted my son and we realised that it was heading over the front of the house - we thought it might be heading for the same field as the one did last year.
I told him to grab the camera (I was still yacking to Jo at this point, giving her a running commentary) and we went out the front - I am very lucky to have school fields at the back, and large open green at the front - and I think the balloon was rather lucky too, as it clearly wouldn't have made it over the next lot of houses to that next field!
Quite frankly, I have never seen so many people on the green at one time.
Here's some photos - they're not brilliant, as it was my 11 year old who grabbed the camera, and neither of us checked the settings, the exposure compensation was turned up, so they're a bit bleached out, and he got a wee bit excited, so there's a bit of camera shake.
Firstly, these two though, I thought Ashley did a good job with the framing, they've not been edited in any way, I think they make great pictures: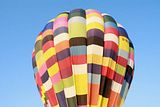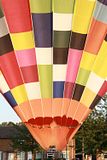 And here's the rest of them:
Coming in to land....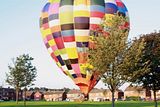 Oops, bumpy ride!
HOW close to the houses?
Mind the cars mate!
Feeling a bit deflated....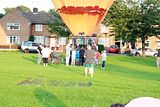 I think we might have damaged your lawn....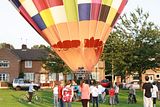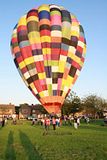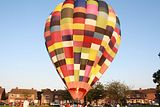 Fire her up, lets get out of here....
Here we go.....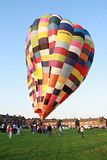 Nope, its not gonna work....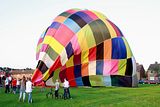 Strange giant snail spotted on village green....
What a pretty tent.....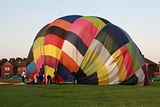 How do you get inside of it?
Ooooh, look, that's why we crashed, its got a hole in it.....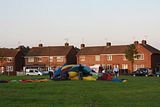 I wish I could fold up my sleeping bag that effectively!